Tweets from Audley Harrison last night and this morning seem to suggest he is seriously considering "rolling the dice again".
Harrison Tweets
During his pro career whenever it looked like he might have found some belief to go with his undoubted ability he would fall again and would then have to face a torrent of questioning whether he really was any good. For example beating Danny Williams in Sept 2006, but then being beaten by Michael Sprott in his next fight by TKO.
He tried to scale many hills and mountains but always slipped, stumbled and fell before he got to the summit.
21 KOs from 28 wins shows that Audley had the power and skill to beat any opponent in front of him on his day, BUT, 6 losses, 4 of which were to Sprott, Williams, Rogan and Guinn show that he lacked the mental ability to go with his boxing skill. At times it looked like he was a rabbit caught in headlights. The 3rd round against David Haye was a classic example of this.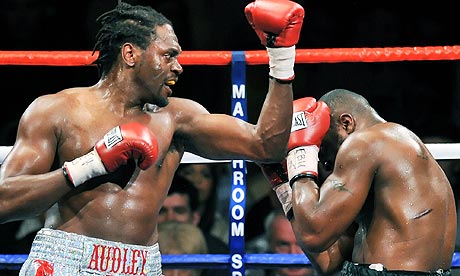 Harrison Vs Sprott
The highlight of his career was winning the European heavyweight title at his second attempt against Michael Sprott.
But he never wrapped a belt around his waist again and certainly never will again.
His defeat at the hand of the future heavyweight champion of the world, David Price, after 82 seconds should be his last and should also make it clear to Audley himself that he does not have the tools any longer to succeed at the top of the game domestically, never mind European or world level.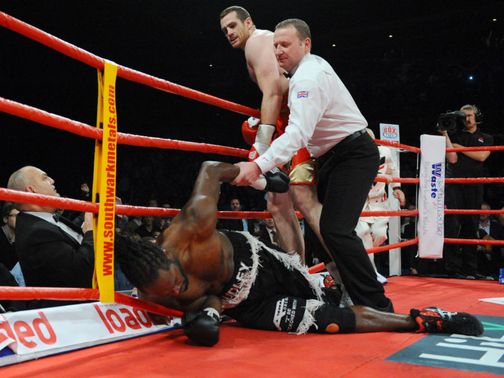 Surely the end Vs Price
To carry on in the pro ranks would be to risk serious damage.
We should not forget the good that Audley did boxing and the abuse he received before and after the Price fight was, in my opinion scandalous. Had Audley not won Gold at the 2000 Olympics, boxing GB would have scaled back it's programme even more and would also have received a lot less funding, possibly meaning the end of Olympic boxing in the country.
With no TeamGB there would have been no Khan, Degale, Joshua, Adams, Price, etc, etc learning their trades in the amatuers winning medals at Olympic games. I think people should remember that.
Gold Medalist
So Audley thanks for all you did for boxing, but now it's time to waltz off into the sunset while you still can...
The Dancer.